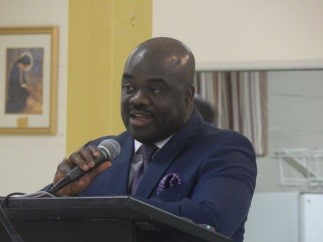 Washington Doe
National President: NAALTHSA
I am thrilled to have the opportunity to lead the National Alumni Association of Laboratory-Tubman High School in America (NAALTHSA) for the next two years as National President. As the Association embarks on more than two decades of its storied existence, I hope you share my pride in our alma mater (William V.S. Tubman High School) for all that it has accomplished and for its vision in moving to its new heights in post-Liberia.
Let me first of all of congratulate my predecessor Mr. Saywalah Kesselly and his Leadership Team and the Board of Directors especially Board Chairman, Patrick Thompson for their stewardships in restoring TRUST amongst members and TRANSPARENCY in steering the affairs of the Association. It is my aspiration to continue their legacy in building a better Association that will continue to maintain life-long connection with our Alma Mater; providing substantive and creative support to enhance the educational goals of the institution; and most importantly to have a long lasting relationship amongst my fellow Cardinals.
Fellow Cardinals and Friends, the late Martin Luther King, Jr said "The time is always right to do what is right"….. I'm appealing and encouraging each of you to please find it in your heart the need to HELP and BE PART of this noble Association in partnering with the Administration of William V.S. Tubman High School and Organizations/Institutions in improving the quality of Education for our less fortunate Brothers and Sisters who are inquiring education to the future of our beloved Nation Liberia. I do highly appreciate your financial support, exploiting your personal network to reach out to organization (s) in providing assistance, recommendation to make us better as an Association, encouraging Cardinals you know to BE Part or whatever the circumstance it is now to to do the right for our Alma Mater…. William V.S. Tubman High School makes us to believe in ourselves to become who we are today… There's a slogan which defined who we are as proud Graduates and Former Students…Which said… "T-High is where brave MEN & WOMEN go to fight and die but only the strong survive"….
Thank you ALL for your unwavering supporting.
Be Blessed
Washington Doe, Class of 88
National President